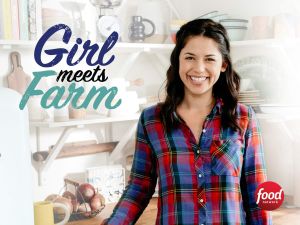 Girl Meets Farm
Documentary
Cookbook author, food blogger and Midwest transplant Molly Yeh embraces her country life and makes dishes inspired by her Jewish and Chinese heritage — with a taste of the Midwest, too.
Season 09 Episode 03 — Drive-In Date Night
Molly Yeh whips up homemade concessions for her movie night date night on the farm. She makes ooey-gooey Diner-Style Patty Melts, salty Ranch Kale Chips, deep-fried Kim-Cheese Tots with yogurt sauce and Oatmeal Movie Cookie Ice Cream Sandwiches.
Girl Meets Farm S09E03 Drive-In Date Night 480p x264-mSD (110.24 MB)
Girl Meets Farm S09E03 720p WEB h264-KOMPOST (499.32 MB)